New evidence shows social investment can reduce poverty and boost local economies.
New research shows social investment can have a significant impact in lowering deprivation and boosting economic output and productivity in communities. The findings are part of a learning project between the Department for Culture, Media and Sport and Social Investment Business into the historic portfolio data of the Futurebuilders England Fund.
The Futurebuilders England Fund was a groundbreaking, Government-backed social investment fund that provided repayable finance blended with grant to charities and social enterprises in England. This was to help them bid for, win and deliver public service contracts. The fund saw £142 million of loan, grant and blended finance invested into 406 charities and social enterprises between 2004 – 2010.

The research looked at the areas that received Futurebuilders England Fund investments and examined the impact it had on local economic development. The research used a hyper local analysis, looking at small geographies of around 1,000 and 3,000 residents.
Findings from the research revealed the following:

1,500 jobs
Futurebuilders England investees employed 15.61% more people post-investment.

The data found deprivation levels had improved in areas receiving social investment compared to nearby ones that had not benefitted. The average difference was 12% and over 17% when the investment exceeded £3 million and £4 million respectively (between 2010-2019).

A notable trend was that the larger the investment, the greater the improvement in deprivation compared to non-Futurebuilders England Fund areas.
"
Social investment is hugely important in reducing deprivation and is a key part of our levelling up agenda."

"Research such as this helps us to better understand and reach out to the most disadvantaged communities, particularly when informing future funding decisions."
Rt Hon Stuart Andrew MP
Civil Society Minister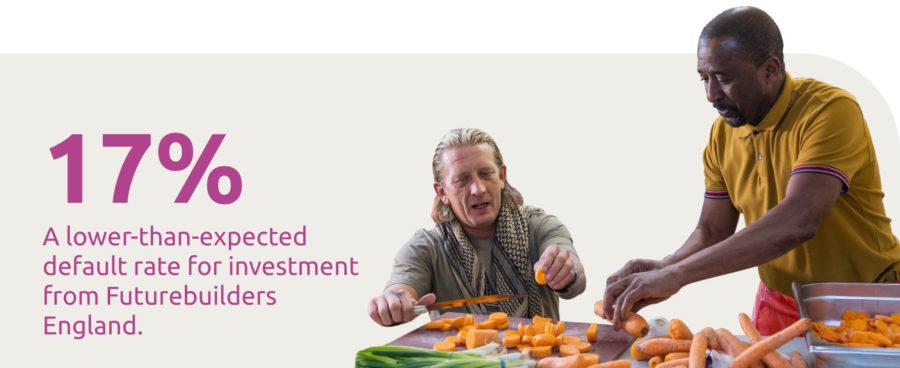 12%-17%
Deprivation levels decreased in areas that received social investment from Futurebuilders England.

To measure the impact of social investment on economic output and productivity, the research compared changes in Gross Value Added (GVA).

GVA measures the value of products and services produced minus the costs incurred in production. The ONS has begun releasing experimental data that provides GVA at a much smaller spatial scale enabling analysis of smaller neighbourhoods. This data was used for this analysis.

The data shows that increases were higher in areas receiving social investment compared to areas that had not. The difference in GVA change between them is 14%, where areas received at least £500,000 of social investment (between 2010-2019).

Similar to the trend seen with the deprivation data, the difference (measured through percentage changes in GVA) is higher when the amount of social investment is larger.

The GVA change between Futurebuilders England Fund areas and areas that had not benefited from the programme rises to 42% and 106% for social investments exceeding £3 million and £4 million respectively (between 2010-2019).
"
Our purpose at Social Investment Business is to use finance to build a more equal society. What is hugely exciting about this research is that it provides compelling evidence that social investment does exactly that – not only increasing economic output and productivity, but also decreasing deprivation at a hyper-local level."

"Policymakers and investors across the spectrum must take note of these findings – which should ensure social investment is a key part of any approaches to place-based regeneration"
Nick Temple
Chief Executive of Social Investment Business Read

Read more about our Futurebuilders Report using the download button below.